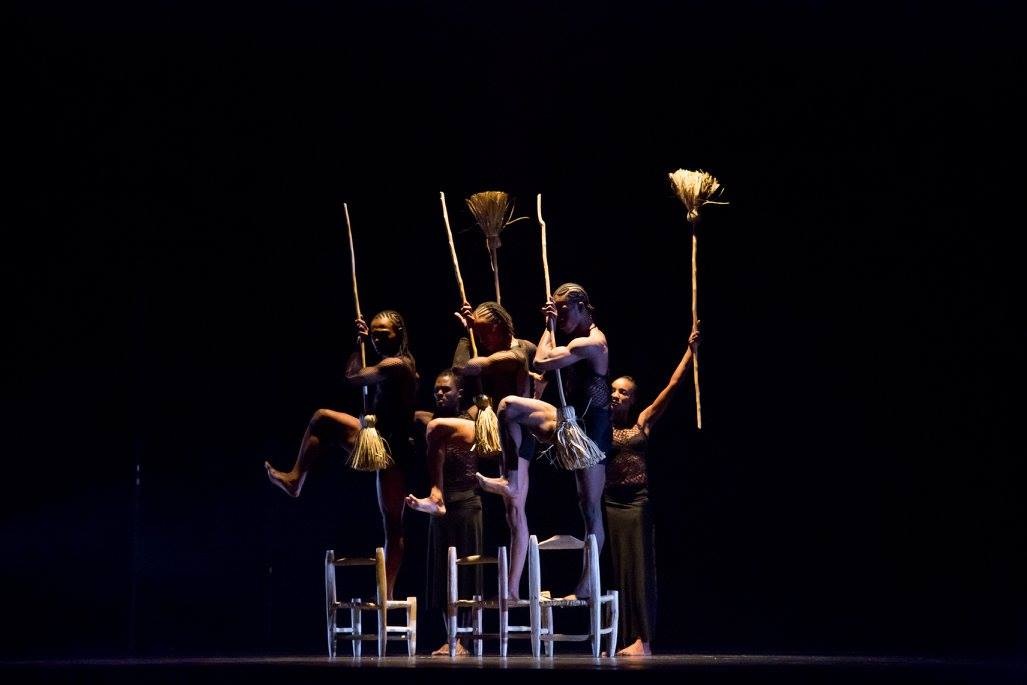 About three years ago my friend and colleague John Richard at the Adrienne Arsht Center in Miami told me that he wanted me to be a part of something that was special to him. He began to tell me the story of Jeanguy Saintus and the company Ayikodans in Haiti. A number of short weeks later, I took a trip to Haiti to meet Jeanguy, the dancers and the company's rehearsal and performance facilities that had recently been damaged by the horrible earthquake.
My trip was eye opening. In all of my travels around the world I had never seen such a place so filled with so much hope but with so little resource. Their theater, the back side of a rented home with a shed roof and naturally raked audience was very quaint and intimate. The main house, which had a number of rehearsal studios within, was literally broken in half. But there they were, the Ayikodans company ready to rehearse, ready to show me the pieces that Jeanguy had created for an upcoming performance at the Arsht Center. As I watched from a thatched chair placed in the front of the stage, enormous lemons fell from the trees above. Chickens scurried across the yard, below the ballet bars. Wild boar roamed in the streets. Again, there they were, ready to dance.
These dancers brought such passion, love, pain, sorrow and dedication to this rehearsal that I was incredibly moved. These artists were dancing because this was their truth. This was their only voice. They danced as if it was the last time they would ever get a chance to speak. In awe, I pondered that IT WAS A REHEARSAL literally for me to watch and create a lighting concept. I was so taken by the passion of this company.
After rehearsal, I got a very local tour of Port au Prince and Petronville. The blue tarps were a harrowing reminder of the death that had recently occurred. Many (most) of the fallen buildings still lay in rubble. The streets were filled with people. Most seem to be really struggling. The sadness amongst the community was significant. I had never witnessed anything like it at any point in my life.
Jeanguy and his dance family treated me like their own. I stayed at their home and broke bread at their table. We quickly become great friends.
Eventually, we reconvened in Miami to create the ballet and performances that we had been brought together for. Along with a very supportive team at the Arsht, we all created an evening of work that really showcased these powerful dancers and musicians. It was a wonderful success and audience and critics alike found the work to be moving.
Since that inaugural project, I have been to Haiti many times. Each time to develop new works with Ayikodans. Some of my team members have made trips as well, getting the opportunity to experience it first hand. The last visit, I brought my wife whom was inspired to see why I was so passionate about them. Once she was there she fully understood. This company had an important message and should be seen.
Things are finding their way in Haiti but they have a long way to go. The company has a new studio, built with some support by donations and a lot of sweat and tears by Jeanguy himself. The best part of it, is that it's theirs and no one can take it away. Our dream is a second studio built above, that will create more space for community opportunity and classes for the youth of Haiti.
The company continues to develop new work. They have had performances in the US in recent years in Miami, Ft Lauderdale, Albany and Atlanta. Jeanguy has created works on a number of companies in the US as well. I think the company would really shine at some of the great dance festivals such as BAM Moves, NY City Center Fall for Dance and the American Dance Festival. I have no doubt that with time we will get this opportunity. My dream is that they have the opportunity to be seen by the world and share their wonderful stories through dance.
I hope that if anything, you will do your research on this wonderful and important group of artists. They are some of the best I have ever seen.

- Al